City of Peace is a permanent sculpture in Peace Gardens, Sheffield.
The stainless steel sculpture, features seven life-size doves perched on the chimney of HaHa Bar, next to the Peace Gardens, was inspired by Pablo Picasso's visit to the Second World Peace Congress held in the city in 1950.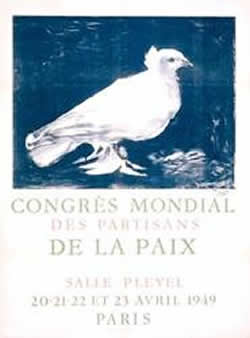 During his visit to Sheffield, Picasso arrived at Sheffield Midland railway station carrying a bouquet of chrysanthemums and wearing an old raincoat and blue beret. He was welcomed by members of the local communist party, the press, and the public, and taken on a tour of the city. He ate a bacon sandwich at Thorpe's cafe in Fargate; had his hair trimmed at Peckitt's barbers, and drew a 'dove of peace' on a napkin in Butler's Dining Rooms.
The Congress was to be a special debate on the Korean War, but the Government at the time refused to allow important speakers into the country and it was abandoned. Picasso gave a short speech, recalling that he had learnt to paint doves from his father, and ending by saying "I stand for life against death; I stand for peace against war."
Later whilst returning to London he drew another Dove of Peace on a napkin, which he gave to the bodyguard who had accompanied him around the city. This drawing is now part of Sheffield Galleries and Museums Trust's collection and is now on permanent display at Weston Park Museum.